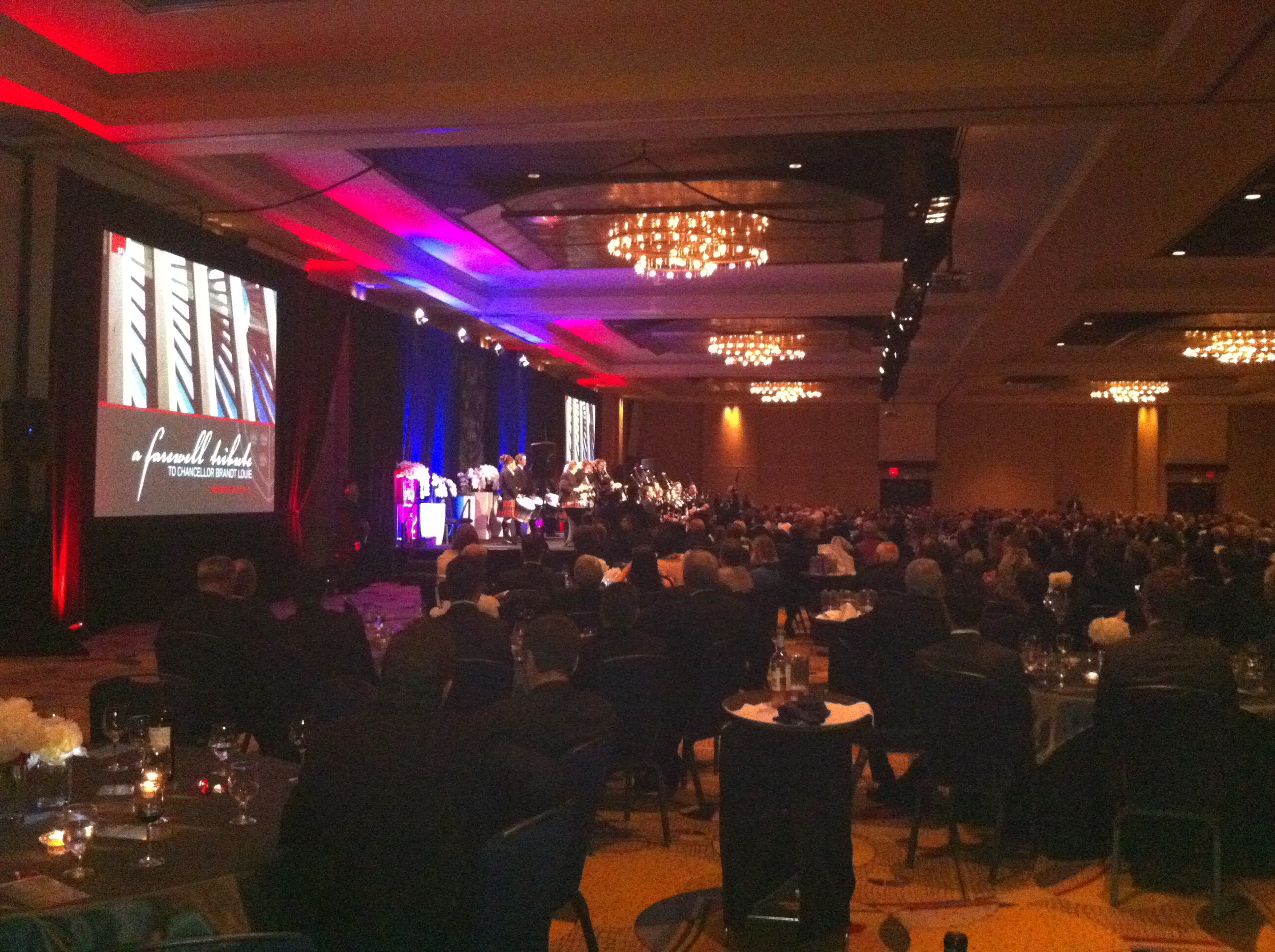 On Tuesday, June 28, I had the opportunity to attend the Farewell Tribute Dinner for SFU's chancellor Dr. Brandt Louie, who retired after 11 years of service to the university. Dr. Louie served for two terms as SFU's 9th chancellor and also as a member and chair of the university's Board of Governors. He is one of the BC's leading entrepreneurs as Chairman & CEO of H.Y. Louie Co. and Chairman of London Drugs – and he is a previous winner of the prestigious "Entrepreneur of the Year" award bestowed by BC Business Magazine.
The event was held at the Hyatt Regency Vancouver and hosted by Gloria Macarenko of CBC News and Christopher Gaze of Bard on the Beach Shakespeare Festival. Guest speakers included SFU president Andrew Petter, presidents emeritus Dr. Jack Blaney and Dr. Michael Stevenson as well as incoming chancellor Carol Taylor. All noted the instrumental role Dr. Louie played in SFU's growth over the past decade and many made specific mentions of opening the Surrey campus which was driven through his vision and leadership.
The philanthropic efforts of the Louie family were also recognized, including the commitment to match gifts made to the Chancellor Brandt C. Louie Legacy Fund. The fund is an endowment that will be used to support undergraduate and graduate awards at SFU and has raised more than $500,000 to date!
The evening closed with a performance by the World Championship SFU Pipe Band, a group that Dr. Louie has had a close relationship with during his time at the university. Overall, it was a fantastic event and one that I'm sure left many people inspired to give back.