The MBA experience is all about the practical application of course concepts in a real-world environment. Managing Global Enterprises, taught by Anthony Chan, provided a unique window into the application of course concepts in the real world. In this course, students had the opportunity to work directly with local companies to provide solutions to actual business problems. Students played the role of consultants, responsible for conducting interviews with the leadership of the company to identify the problem and brainstorm potential solutions.
For the duration of this project, I had the opportunity to work with Dreamrider Productions, a local company that specializes in providing educational training materials relating to sustainability in schools and educators around the world. Dreamrider Productions faced a unique challenge, as they were attempting to expand a new product offering into an emerging market. As a consultant for Dreamrider Productions, it was my responsibility to investigate the logistics of expanding this product offering, all while providing a full report on the potential challenges that are associated with expansion.
Teamwork was a pivotal part of this project, as is the case with most projects that are carried out in the SFU Beedie MBA. Each of my team members played a critical role in providing support during this project, as we all possess unique strengths and skillsets. Working with diverse group members made a seemingly insurmountable project much easier, as we had the opportunity to learn from our peers and improve upon our unique skills.
Of course, our groups received plenty of support throughout the process of completing this project. Anthony Chan regularly included content in his classroom lectures to provide realistic examples of how global business problems can be solved. While taking the Managing Global Enterprises course, we studied business case examples of colossal failures and defining triumphs in global business operations. This information proved to be valuable during the process of completing the project, as our groups were able to learn from the experiences of major companies before making any sort of recommendation for the local companies we were assigned to work with.
The most important component of the Managing Global Enterprises applied project was the presentation to the company itself. After weeks of compiling data, combing through research, and perfecting our proposal, it was time to make a formal presentation to Dreamrider Productions with our findings. While initially intimidating, we quickly realized that the formal presentation to Dreamrider Productions was nothing to be afraid of, as the company was pleased to have a group of MBA students working diligently to solve their business problems. Our group strongly felt that our work was appreciated, and we were compelled to go above and beyond to provide the best service and solution possible to address Dreamrider's unique needs.
Overall, the applied project in the Managing Global Enterprises course was an extremely valuable experience. Reflecting on my experience learning from Anthony Chan, working with a team of talented group members, and aiding a real-world company, I can say without a doubt that this has been one of the most beneficial experiences I've had at the Beedie School of Business. Students who attend the Beedie School of Business at Simon Fraser University will appreciate and benefit from the valuable information they gain from this experience.
__________________________________________
About the Author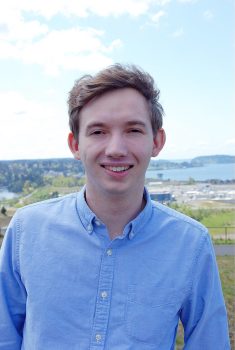 Warren Fazio is a current MBA student at Simon Fraser University and is based in Vancouver, Canada. Warren also holds a degree in Psychology from Western Washington University, where he studied human behaviour and conducted research projects. Warren is an expert in communications and has spent over seven years working in the broadcasting industry in his home in Seattle, USA. In his spare time, Warren enjoys playing tennis and attending hockey games.