It was the middle of October when a meeting at the Craft Beer Market ended with me joining Lisa Leong, Adrian Mitescu, and Kate Dearness to compete in the Corporate Knights-Schulich "Business for a Better World" case competition. This was an international competition which challenged teams to develop a set of recommendations to make Novartis, a multinational pharmaceutical company, more sustainable. The competition would be three rounds and culminate with a presentation to a panel of judges at the World Economic Forum in Davos Switzerland. Needless to say there was plenty which made this opportunity appealing: the chance to test myself against my peers, an opportunity to be a part of a greater discourse and inspire change, the ability to go skiing in the Alps, and an abundance of chocolate and fondue. How could I say no?
Of course I underestimated the complexity of this task. Simply put, Novartis' portfolio is rather large. To develop a comprehensive set of recommendations and be able to summarize it into a short PowerPoint presentation for round one is the epitome of synthesis. Luckily we had a secret weapon in the form of a video summary incorporated into our presentation. With narration provided by Anil Patel, which made Morgan Freeman sound like Donald Duck, we made it to round two. This second phase was much more liberating in the sense that we had the freedom to think through our ideas in detail. After many hours of research and work, we ended up with approximately 45 pages of content that had to be edited down into a 25 page business report. Debate raged as to what should be included and what should be cut, but following the storm we ended up with four primary recommendations, each one carefully evaluated with its own set of initiatives, risks, benefits, and timelines. After much hard work, we submitted our report and waited an excruciating week to hear the results. I was decorating a cookie at the office Christmas party when I received the results. Gingerbread has never tasted so sweet.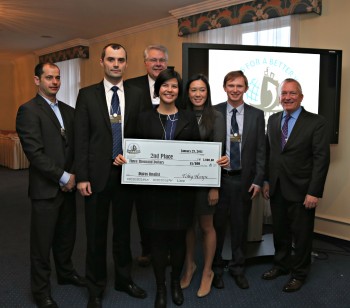 The idea of presenting at the World Economic Forum was nerve wracking enough on its own. The fact that one of the three judges who was judging our case competition stood like a mountain and was a representative from Novartis itself, seemed like a taunt from fate. He was the Chief Ethics Officer with over twenty years of experience and was easily the tallest man in any room. Yet despite his impressive stature, he was both approachable and jovial. When he spoke to us and provided his feedback, it was incredibly insightful and friendly. He stated that many of the recommendations put forward in the competition were ten years ahead of its time. This would be a theme for my experience at Davos and the World Economic Forum.
The World Economic Forum
The location of Davos in the midst of the Swiss Alps is quite appropriate. The issues that the forum seeks to address and discuss are as daunting as the peaks that surround the little city. In the days approaching the competition, I read more and more news stories of who was attending and the issues they were trying to address. Government officials, CEO's, philanthropists, and celebrities were all attending to discuss issues of the environment, global security, social justice, and more. It was easy to be intimidated at first. In the morning we drove past a heavily armed security checkpoint as every hotel required an ID badge. Even within each hotel, only approved guests were allowed in a room where an event was taking place. It was easy to see why people criticize the event as being only for the elite, and out of touch with the common experience. For example, what makes Pharrell Williams qualified to discuss climate change?
Yet there was another side to the event as well. Outside wandering the streets we came across some fellow Canadians set up at a park playing music. They had signs saying 'Free Hugs' and were giving away homemade cookies. I can't speak to their purpose, I imagine it was in slight protest, but it seemed to me that they were trying to represent those who couldn't attend and who make the world a better place through individual effort. Even more insightful however was attending an open forum on employment gaps, particularly with youth. This was a panel discussion, open to the audience, which attracted a lineup of people outside including university aged young adults. The panel was comprised of an executive of a large consultant company, a leading economist, labour representatives, and the Prime Minister of Sweden. Despite all the criticisms of inaccessibility, here was a forum accessible to everyone where anyone could ask a question. While not all questions are equal, the debate was lively and encompassed topics on the merits of Marxism, North American vs. European free markets, and the ethics of unpaid internships amongst others. I would like to point out that the Prime Minister of Sweden looks remarkably similar to Jim Belushi and is almost as funny.
Humour aside though, we ultimately claimed second place, and won an unbelievable opportunity to take part in a truly global event. I am grateful for my teammates and for the support shown to us through the Beedie School of Business, including Professor Stephanie Bertels. We put an incredible amount of work into our report and were able to successfully harness our collective work experience and the skills we learned at school into something I am genuinely proud of.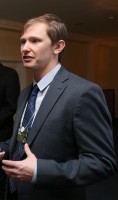 Shaun McPhee is a full time MBA Student at the Beedie School of Business. For the last three years he worked within the deployment control centre for BC Hydro's Smart Metering Program. Passionate about history, current affairs, and pop culture he constantly looks to apply his knowledge to the local trivia scene. Outside of scholarly pursuits he can be found playing ultimate, captaining his softball team, or simply meandering in nature. Connect with Shaun on LinkedIn or Facebook.