Although I was aware of the importance of First Nations relations to the success of businesses in British Columbia, prior to this extraordinary trip, I never had the opportunity to learn about what that relationship entails in such depth. As Patrick Michell – Kanaka Bar Community Liaison – puts it aptly, "relationships with First Nations should be viewed as business opportunities rather than impediments".
Our excursion began at 9:30am on a fine Tuesday morning. The bus buzzed with continuous chatter and laughter – all the positive signs of an excellent adventure. Even though the bus encountered unexpected mechanical issues en route to our first destination, the bus load of aspiring and innovative leaders of tomorrow made the best out of the situation. In fact, some of the fondest memories were created during this "pit stop" where target practise was improvised with rocks and silly pictures (taken and provided courtesy of the talented Mohammad Nasiri) worth thousands of words were taken.
We arrived at the Nk'Mip Resort just in time for dinner. We were greeted with warm hospitality the moment we set foot in the Nk'Mip Desert Cultural Centre. Mouth watering Indian tacos were on the menu that evening. Before we began, our head host Bob Etienne, introduced us to the tradition of 'smudge' – smoke from burning sage leaves were used as a purifier of surrounding energies. As Bob puts it, "water from the tap takes external impurities away whereas sage cleans from the inside out". This proved to be an eye-opener for most of us and marked the beginning of the cultural learning journey.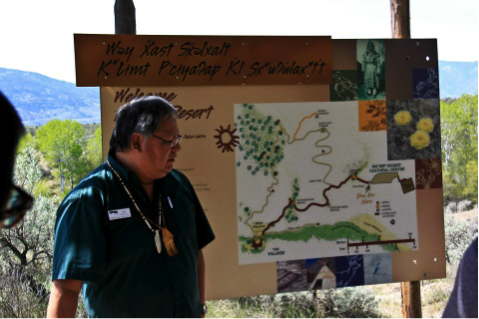 The following days were filled with a fine balance between academic learning, cultural education, and bonding between classmates. Our first official day on the resort began with a presentation by Chris Bower – Director of Operation at Nk'Mip resort – who informed us about the history of the resort as well as the business opportunities and challenges involved with First Nation relations. Following breakfast, the group made its way into the desert attached to the resort for a session of rappelling. Walking perpendicularly down a cliff wall sure got all of us excited. Next on the schedule included a desert walk led by Bob who gave an informative lesson on how First Nations survived and navigated through the often-time unforgiving desert. The day wound down with a tour of the Nk'Mip winery topped off with a taste of delicious wine ranging from Pinot Blanc to Merlot.
The rest of the trip included a surface tour of the New Gold mine, tour of the Kwoiek Creek Hydro Project, and lunch hosted by the Kanaka Bar Indian Band where we had the opportunity to experiment with authentic First Nations cuisine, all of which were pleasantly informative and at times surprising.
That said, this First Nation cross-cultural trip provided the class with invaluable information necessary for doing business in British Columbia. Additionally, after interacting with First Nations and getting their perspective on challenges they have faced provided a high-level take away – one needs to be cognizant and sensitive to the indigenous population. This is true, as we have learned in Cross-Cultural Management, for expatriates on assignment in a location that differs widely in customs. This trip was a good opportunity for me to reflect on what I have learned so far in the program and ponder about delicate relations under a more informed and holistic way. You may wonder whether I would go on this experience again if I had the opportunity to. Heck yea, where do I sign up?!
Chamberlin Chang is a former Account Services representative at the Insurance Corporation of British Columbia. He is interested in business process improvement, change management, and strategy. Please contact Chamberlin via LinkedIn to learn more and/or discuss employment opportunities.