Looking for the right place to stay can be challenging, especially for international students.
Being new to Vancouver, I was looking for a place closer to school where I could interact with my fellow MBAs in a safe environment and the Downtown Vancouver Residence is exactly that. About a 5-minute walk from school, centrally located close to a number of restaurants and cafes, it was the ideal place for me considering the hectic MBA schedule with no time to cook or commute.
One has the luxury to choose between a two bedroom shared apartment or a single studio with all the furniture and basic amenities provided. Due to the location it is pretty much the best of both worlds- with a fully functional kitchen to cook, located 2 minutes away from the closest grocery store and close to a number of restaurants in and around the place. Recently, a new café opened on the first floor of the residence which is the ideal place to study or chat with your team over coffee.
There is a further benefit to SFU students, which is the ability to foster social innovation and entrepreneurship through the new RADIUS Innovation Center with offices on the second floor of the residence building. This space supports the creation of new social ventures. If you are interested in being a part of something meaningful, that makes a difference in the community, then this is the place to be.
The residence is a fun place to stay and is pretty much a community where we celebrate almost all holidays; including Thanksgiving, Christmas, Halloween and New Year's. Besides this there is always something exciting happening: Vancouver site seeing trips, visits to the museum, going ice skating, visits to Granville island or just simply playing board games, baking together or making sandwiches for the homeless. With so much going on, one feels part of the community and is unlikely to get homesick.
The Residence gives preference to Beedie students and it's convenient to stay connected with your fellow classmates for late night assignment discussions or just to have company while studying. It is also a good way to socialize and to get to know people from other courses as well.
There is never be a dull moment at DVR and it feels like home with wonderful people to chat with at any time of the day.
For questions related to housing at SFU, please contact housing@sfu.ca or visit their webpage.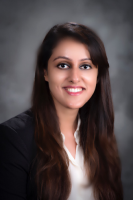 Shivani Singh is a full-time MBA candidate at Beedie School of business with experience in Operations and Business Analysis. She is currently serving as Beedie Student Ambassador and is looking forward to new opportunities in Strategy and Operations upon completion of the MBA program. Connect with Shivani on LinkedIn or via email.