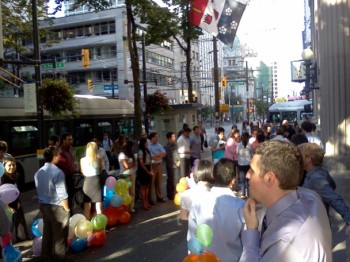 Today after more than two month of the MBA program I got a minute to spare and I'm going to share a tremendously important secret with you all. But promise not to tell anyone, OK?
Through the orientation week, all of the MBA cohort gets the idea that we are going to have a very busy schedule and it's a lot of work ahead. Mostly team work.
As a part of the orientation week — which I personally found very useful — we attended a teamwork workshop which served us well in two ways.
First, we got a chance to know each other more in-depth. Second, we were provided with a scientific self-assessment test which enabled us to know our learning pattern. This was something that I never knew of before.
It was such a great experience to know how people learn the same subject through different approaches. The fun part was that after a day-long workshop, our instructor asked us to utilize what we had learned through the course. But how? Good question.
By making a balloon tower! Yes that's right — I'm pretty much sure all of you have heard about the macaroni bridge competitions or cup festivals at the universities, but balloon tower is something extremely amazing. You got seven minutes to build it, with limited building materials and you have to work in teams. The winner would be tallest, most stable tower, which could withstand outdoor conditions. Yes, that's right you had to bring it to the street and test its stability.
I can't even describe how everybody was feeling and acting through that sequence of events. There was a lot of stuff going on at the same time. Some groups, depending on their members' backgrounds, started to set up an engineering design, while the other started to produce an artistic masterpiece, and so on. To cut the long story short, after all that furious competition, the winner was announced. But that was just the start of the story — right when everybody thought that the game is over the fun part came along. "Let's put all the towers together!" called our instructor. Student from all groups enthusiastically assembled the "master balloon tower", which was something like a giant colorful cloud.
The lesson was great: Teamwork is something more than individuals and cooperation is not always equal sacrifice. Sometimes we CAN have the cake and eat it too! Work in the groups and enjoy it.
So what's the bigger secret? I'm telling you now, from that day I got what MBA stands: "Master of Balloon Administration". In retrospect, this was an experience — and a higher education acronym — not soon to be forgotten.