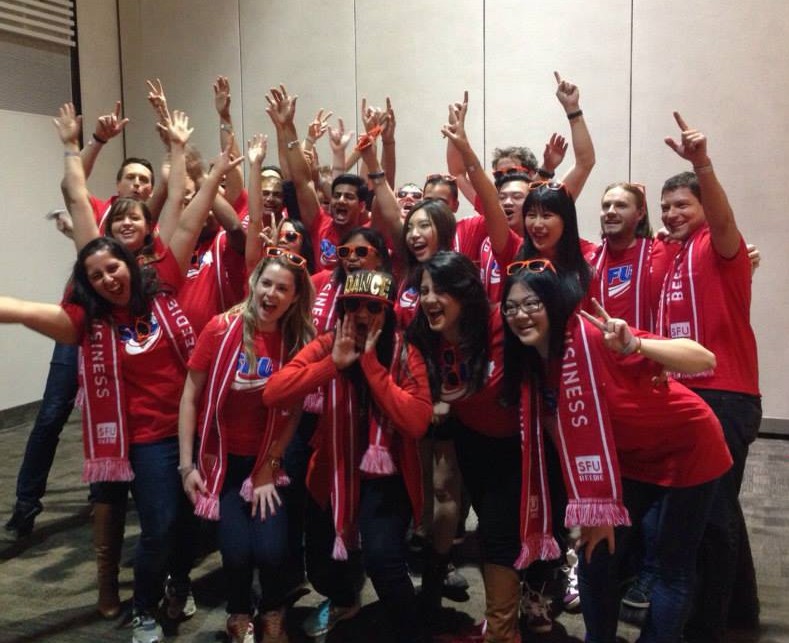 Monday's 6:45 a.m. flight out of Hamilton, the site of the 2015 MBA Games, presented a rare opportunity for me to pause and reflect on the games and the Beedie MBA program as a whole without the distraction of a Wi-Fi signal.
I have to confess that prior to departing for Hamilton, I spent very little time thinking about the games and what I was hoping to gain from the experience. It wasn't until a family member asked me about the event and an explanation for why I was cutting my Christmas vacation three-days short, did I put much thought into it. I believe my response went something like this, "The games are an opportunity to hang out with my classmates, participate in sports, network, and hopefully have a bit of fun in the process." However, hidden in that response was an underlying doubt whether the weekend was going to be worth the effort of flying east to compete exclusively in sporting events, where the chance of a victory was minimal.
First, I have to say a few things about how my past has shaped my views on athletic competitions. In my former life as President of Alberta Alpine, I had the privilege of overseeing an organization tasked with managing Alberta's elite alpine ski team. Alberta Alpines' mission was to develop provincial-level athletes so they could compete at higher levels such as on national ski teams and elite NCAA ski programs. Funding decisions were evaluated on the merits of how the expenditure (ie. cost to attend a training camp or race) would assist with overall athlete development. Consequentially, the coaches had to justify their expenditures based on the expected return-on-investment to the athletes' overall rankings – which are very much objective and quantifiable.
In contrast to how I approached athletic competitions with Alberta Alpine, I found myself in Hamilton participating on a team where there were no quantifiable or objective measurements of success. In fact, we did not win a single game all weekend. The tournament opened with a basketball game against the host school, McMaster, who within seconds into the game, proceeded to expose my lackluster defensive skills and slam-dunked over my head. When the final buzzer sounded, we had lost 50-7. Yes, this was the score of a basketball game, not a football game. Similar stories could be told of volleyball, water polo, and to a much lesser extent, dodge ball. However, let's not get lost in the specifics of each outcome. Despite our unenviable athletic results, I left the MBA games with a sense of pride in our team for one simple reason – we showed that students from the Beedie School of Business are not afraid to be put into challenging situations.
In a recent class on leadership, I was introduced to the concept of fixed and open mindsets. The basic premise being that there are differences in the way humans approach challenges: those with a growth-mindset believe that aptitude can be developed and improved, and subsequently have a greater desire to improve oneself. The fixed-mindset person believes one's potential is fixed and tends not to undertake activities where success is unlikely.
Over the course of the weekend I witnessed our team positively embrace each challenge with commendable effort. In the pool, some of our team members had to wear life jackets to play water polo because they had not grown up in areas of the world where swimming is taught. Several teammates found themselves on the volleyball and basketball courts for the first time. Despite this disadvantage, 'Team Beedie' stuck together and gave it their all. The team camaraderie and support on display throughout the events was tremendous – not once did I hear the words 'suck' or 'I won't try'. A team full of fixed mindsets would not have set foot on the court out of fear of exposing a weakness. As a result, I left Hamilton excited as ever about the program knowing that I was sharing the MBA experience with a group of people who showed such character, class, and willingness to embrace challenges.
In closing, I want to thank all of my team members who gave so much of their time in the months leading up to the games to fundraise, plan practices, develop dance routines, and source such sharp looking uniforms. In addition, I want to thank SFU for their support of the initiative and specifically, Jeff Nehajowich, for providing the necessary leadership and enthusiasm to ensure we had such a great time. Lastly, a big thanks to the fine folks at McMaster for being such gracious and welcoming hosts. Go Beedie Go!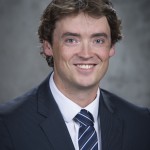 Adam Hull is a current MBA student at Beedie. He served as the President of the Alberta Alpine Ski Association from 2010-2014, where he developed his skills in leadership, performance sport systems, sponsorship, and management.  He was drawn to the MBA as a way of developing deeper quantitative analysis skills before continuing his career as a sports executive, or in a different area that growth potential and autonomy provides.  Adam can be reached at ahull@sfu.ca or on his LinkedIn.