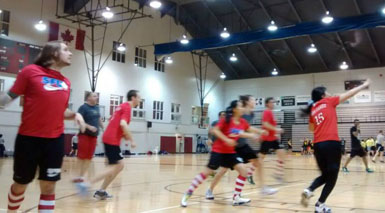 It has been less than a week since the MBA Games and I still feel the energy from an event that shaped my MBA experience within the full time program. I will be honest in saying that I was not 100 percent aware of what I was going into, but we rallied some team members together and set out for Hamilton. With a few last minute preparations of dancing beside the hotel pool with my teammates, I was asked to sub in for our captains in an introductory meeting. When I entered the room, I could feel the energy from the captains of each team. This was but a sample of what was to come. After getting some last minute details, we began our final rehearsal for the opening ceremonies, where we learned some sophisticated dance steps from our dance team. When it was time, we moved to the opening ceremonies room to strut our stuff. Entering the room for the opening ceremonies was amazing and shocking at the same time. There were 400 MBA students showing their team spirit in a deafening roar of excitement. One could not help but get caught up in the energy from the crowd, which I still feel while writing about it. When it came time for our group to go, we went up and gave it our all. We did an amazing job, with some impromptu shirt removals and the worm.
To say that the first day was overwhelming would be an understatement, and what followed was even more amazing. I witnessed true competitive spirit, an enormous amount of school pride, and was able to watch members of our team give it their all in sports and activities in which I knew they felt challenged. After finishing a game, to hear my team members yell out with enthusiasm, shouting "awesome game", and to cheer for the other team, it fills you with a sense of pride. I think that showing our school in a positive fashion, and showing others that while we may not win in any particular event, we came out of the court with battle wounds, and giant smiles on our faces, knowing we gave it our best.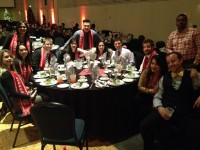 While my team competed admirably in the events of the weekend, I think another major component of the event was networking. This is not that uncomfortable networking event that you go to that is, at best awkward, this is a networking event in the form of a true party. While I was fortunate to go to the official networking event, I found that each member of the different teams were truly passionate in talking about business ideas and some of their aspirations in getting an MBA. At the end of each day, there were many social events as well as side events such as karaoke and a live band to participate in. There was never a dull moment.
For those of you reading this in the future and thinking about going to the MBA Games, I challenge you to take the opportunity. I know everyone who attended from our group has nothing but positive things to say. The MBA Games is a good way to bond with your cohort as well as other MBA students. There are really no words to sum up the games that would give it true justice, but hopefully through my experience, you can get a glimpse into one of the best events so far that the MBA program has to offer. To those who went, I could not have been more proud of a group of MBA students that showed exceptional teamwork and immense passion to the events of which they participated. I feel that through our experience we are closer as a team and our next few months and beyond we will have many stories to share with the rest of our classmates.
CJ is a full time MBA candidate at the Beedie School of Business and a member of Net Impact. His background is in healthcare and looks to combine ethics and fiscal responsibility within the healthcare field for sustainability. You can contact CJ through Butcher@sfu.ca