At first, participating in the Redefining Investment Strategy Education(RISE) competition was just an ordinary competition for us; but after spending three days at the University of Dayton, I can truly say our experience at the RISE competition was really amazing. The learning resources were invaluable and the competition was a great opportunity for us to improve our business skills. The RISE organizers provided all the attendees a great opportunity to learn from financial celebrities. On the first day, we took part in the 'Women's Breakfast Event' and we were lucky to see CNBC host Kelly Evans and three other famous women in Finance who talked about their paths to success. It was really a great opportunity to learn a lot from them. After that we delivered our competition presentation.
Before we travelled to Dayton, we asked the previous team for suggestions and advice, then focused on preparing the main points and advantages of our Student Investment Advisory Service (SIAS) fund that we thought would come up during the Q&A part of the presentation. During the competition, our team presented confidently and showed our excellent investment performance and rational investment strategy to the jury. We got great feedback from the judges and the results turned out to be fantastic—first place! After celebrating our victory, we introduced our SIAS fund to other competition attendees during the award ceremonies, and enjoyed the celebratory party, and attended various economic sessions to gain insights from the successful executives. It was a busy and exciting three days.
During our trip, what impressed me most was how our MSc Finance program provides such great opportunities for our students to learn and practice. Through the hands-on analyses that I have done in SIAS, I now have a much better understanding of theories knowledge I have learned and how the finance world operates. Managing the SIAS fund really makes us take ownership and gives us a good chance for work experience. After coming back from the competition, I feel that I have a much deeper understanding of our fund and am proud of our performance. I believe we will always try our best to manage the fund well and we hope the successive cohorts will continue our winning streak in the RISE competition.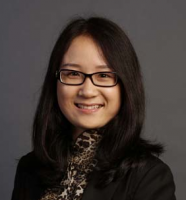 Fan (Cicy) Bai, holds a Bachelor Degree in Economics. Prior to joining the Master of Science in Finance, Fan had taken an internship in Industrial and Commercial Bank of China which gave her abundant experience of managing financial products and offering personal financial services. Her relevant experience also includes establishing a network company with her schoolmates that allowed her to gain more knowledge in market analysis. She is the Europe Analyst in the Rest of World Team for SIAS.