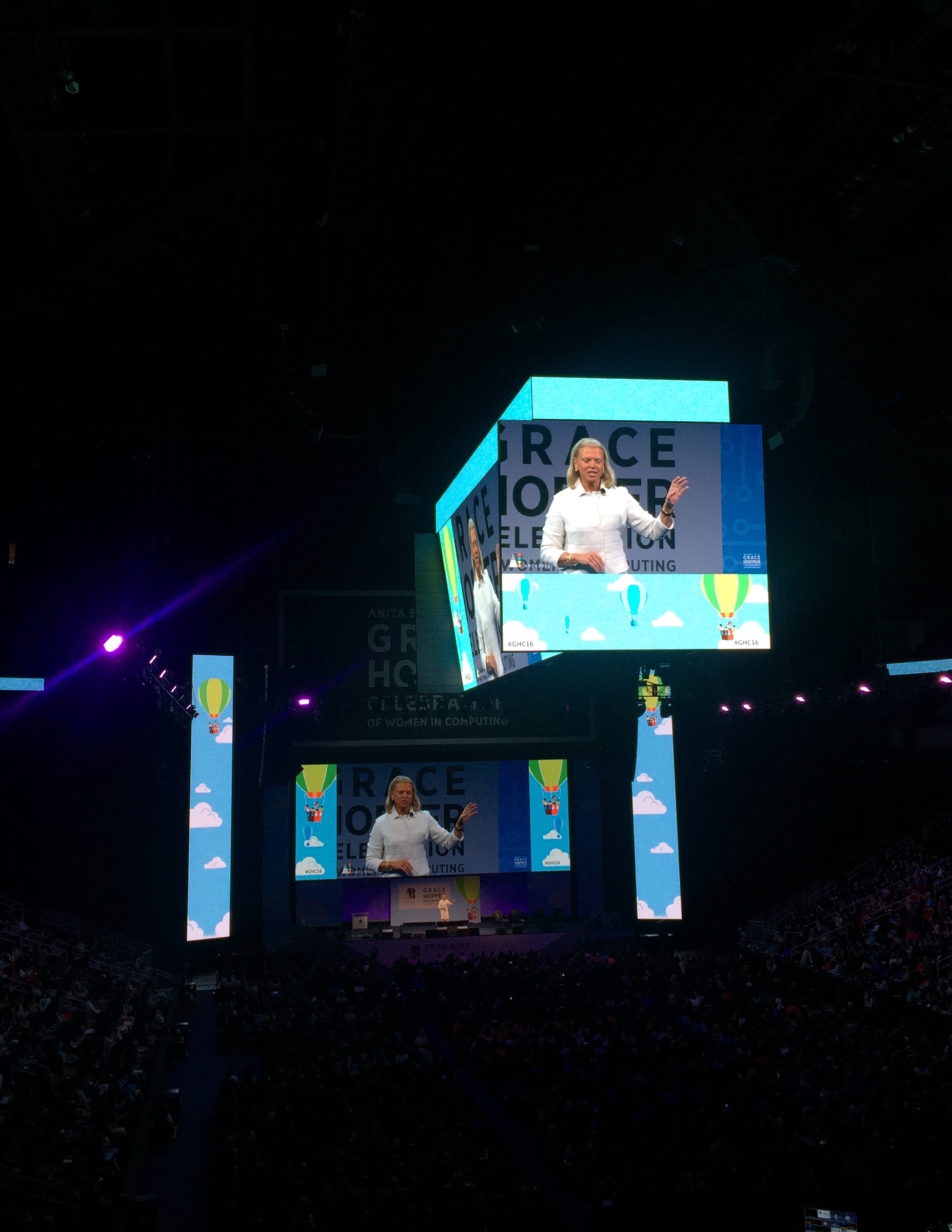 Last week I had the pleasure to attend the Grace Hopper Celebration of Women in Computing held in Houston, TX. This conference is the world's largest gathering of women technologists. It welcomed over 15,000 attendees, whose passion and career inspiration is Technology and Computer Science. The conference started with keynote presentations by Ginni Rometty, CEO of IBM and Dr. Latanya Sweeney, Director of the Data Privacy Lab at Harvard University. Ginni shared her personal story and gave 3 pieces of advice to attendees:
Never let someone to define who you are!
Growth and comfort don't co-exist!
Work on something bigger than yourself!
After the keynote presentations, the amazing crowd headed to an Expo featuring major companies in the Tech industry such as Google, Microsoft, Oracle, SAP, Twitter, IBM, Amazon, LinkedIn, Uber and Facebook to name few. During my 1st year of the MBA program we analyzed these companies' culture, leadership, marketing strategies, product development, innovation cultures and best practices. The Expo provided an opportunity for students to connect with recruiting departments of leading companies that are defining the Tech space and actively changing the world we live in.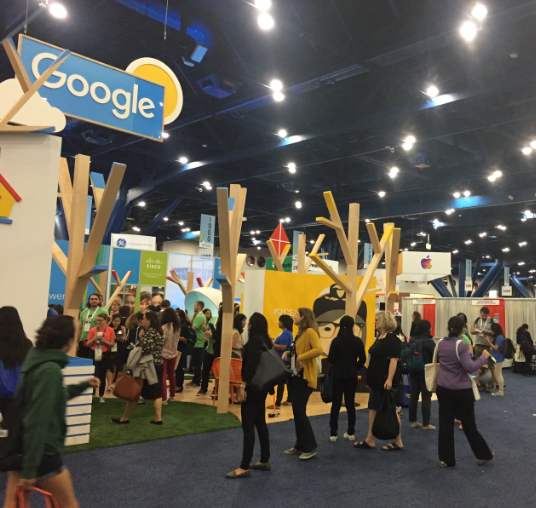 The conference had many passionate speakers sharing their expertise and vision for the future of IoT, animation, wearables, open source, blockchain and cybersecurity to name few. One of the highlights for me was attending a talk by Astro Teller, the Captain of Moonshots Factory from Alphabet. The Moonshots Factory is a highly guarded division of Google that works on Google's most ambition projects such as self-driving cars, project Loon (balloon powered internet for remote areas), and project Fulhorn (fuel from seawater). The Moonshots team spent 2 years investigating the possibility of making fuel from seawater, but after arriving at a solution with a cost of $15 per gallon they decided to pull the switch on the project. Many companies reward only their employees' success, but at Google' "learning culture is not a failure – it is an experiment that must be rewarded", which was the leadership vision that Astro shared with the audience.
Another conference highlight was attending an artificial intelligence (AI) seminar and team workshop to design the prototype of the bot. AI has been a fascination for many minds starting with Alan Turing defining AI in 1951 by a test called "The Imitation Game", which labelled artificial intelligence as machine's ability to exhibit intelligent behaviour equivalent and undistinguishable to that of a human. The Loebner Prize was established in 1991 and will be awarded to the program which will pass the Turing Test. Even after 25 years of annual competitions the Prize is yet to be claimed.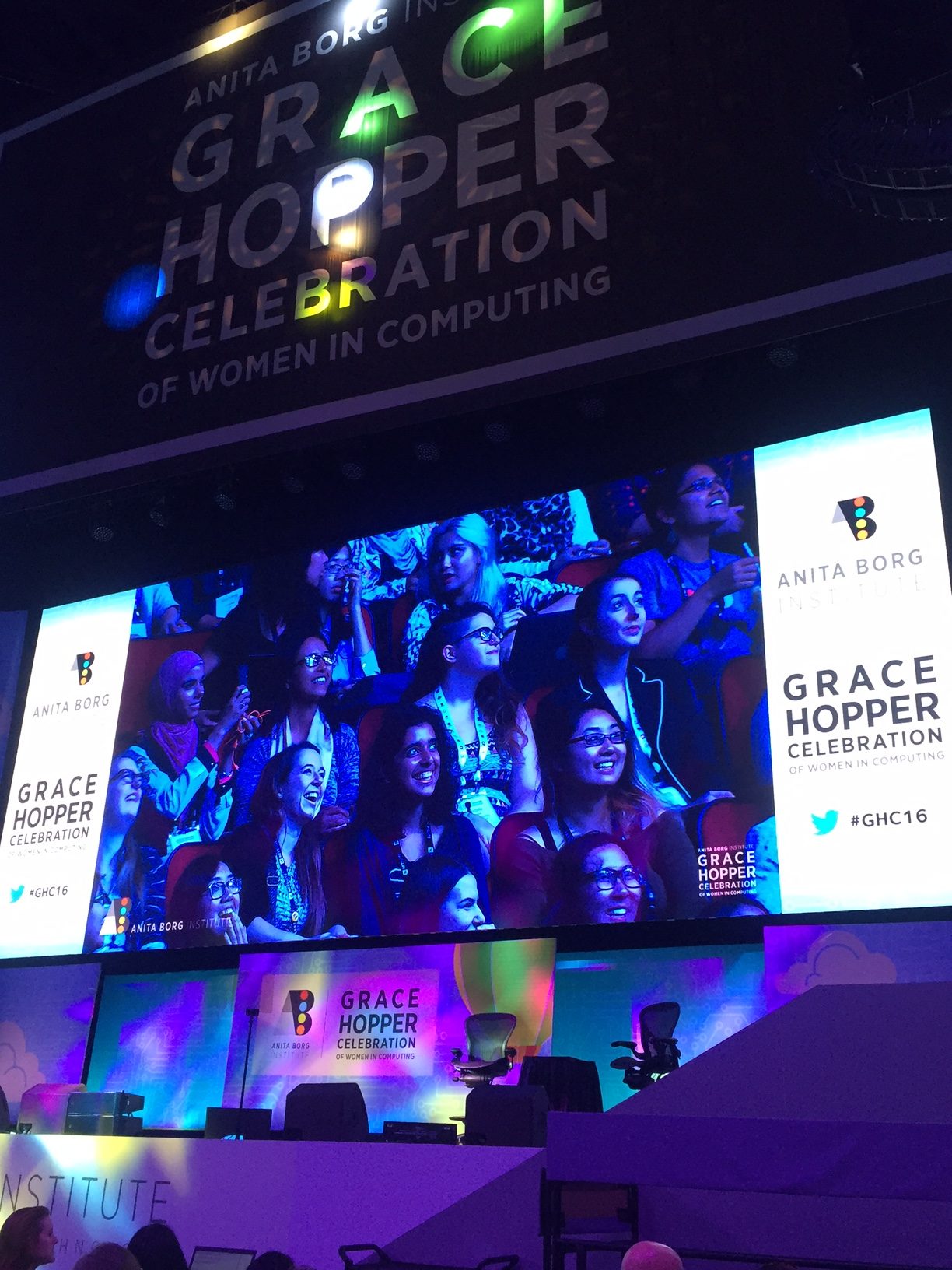 The conference raised important challenges for women technologists. It is not a surprise that the Tech space is dominated by males. Many companies now acknowledge that gender diverse teams performs better. Another challenge is pay equality for women. Working women, on average, receive lower pay compared to their male counterparts. The conference speakers highlighted the importance of addressing these challenges and providing a work environment that is free of any biases. The conference provided an opportunity for attendees to learn, to be inspired and to connect to amazing people from all over the world.
I would like to thank the Anita Borg Institute for organizing this amazing event. I would also like to acknowledge the support that I received from the faculty members at the Beedie School of Business and a special thank you to Catherine Aczel Boivie for her generous support for making this opportunity available for me and other SFU students to attend this conference.
Additional pictures: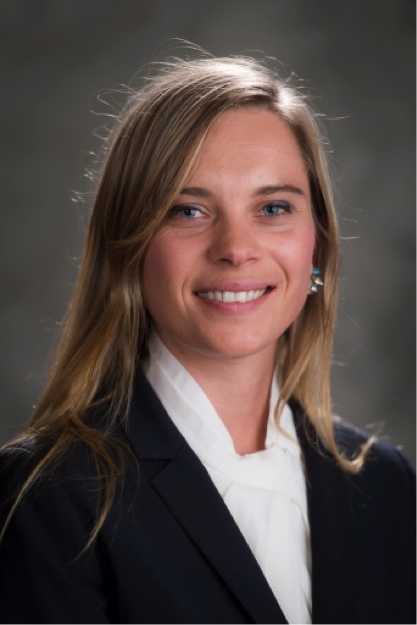 Anna Bukreeva is an MBA candidate at Simon Fraser University's Beedie School of Business. She is currently working on the Site C Clean Energy Project team, but driven by curiosity and passion to grow and learn new skills. She is currently taking the Management of Technology MBA Program. Anna has an undergraduate degree in Hospitality and International Business management. When not solving global challenges with her MBA team, Anna enjoys to give back to community and volunteer on educational events such as TEDxEastVan, which are dedicated to discovering great ideas and sharing them with the rest of the world. Contact Anna via email @abukreev@sfu.ca